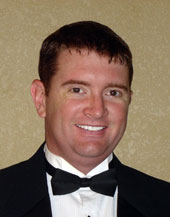 As an active composer and conductor, Gregory Lawrence Duffin (b. 1976), strives to further the appreciation and performance of uplifting modern music. He is a doctoral candidate at the University of Arizona studying music composition and orchestral conducting.

He has a strong choral background, singing himself in choirs from the age of five and writing and arranging choral music since age 14. His choral music has been performed by the Brigham Young University Women's Chorus and Young Ambassadors and has been heard on worldwide religious television broadcasts on numerous occasions.

He has served as a guest conductor with the Arizona Symphony Orchestra, Group for New Music at Brigham Young University and currently serves as the choral conductor of the American Leadership Academy in Utah, USA.