Dear Friends!
Congratulations on the 5th annual International Conservatoire Week festival! Although the years aren't many, we consider this a small anniversary. We are glad that our festival is growing and glad to see our faithful listeners once again. We are grateful to our trustees, guests and colleagues. Most importantly, we do all of this for our students — our young musicians.
To them we wish the best of luck and happiness!

Alexander TCHAIKOVSKY
Rector, St. Petersburg Conservatoire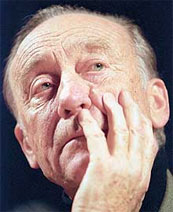 I extend my heartfelt compliments to the V International Conservatoire Week in Saint Petersburg. In today's world of persistent aggression from pseudomusic, this festival assumes particularly weighty and principled
meaning.
This initiative of the first Russian conservatoire — first not only by calendar date, but also in essence, traditions, and indisputable authority in the music world — evokes approval and support of every kind.
Best wishes to the festival!
Rodion SHEDRIN
Russian composer