VOCAL & PIANO ENSEMBLE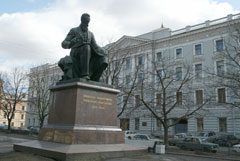 Maria SELEZNEVA (soprano)
Olesa PETROVA (mezzo soprano),
All-Russian Competition prizewinner;
Yegor NIKOLAEV (tenor)
Dmitry SHISKHIN (baritone)
Susanna KAJOYAN (piano),
International competition prizewinner;
Marina MATSHINA (piano)

The ensemble is made up of students and post-graduate students of the conservatoire having joined together to perform the Liebeslieder — waltzes of J. Brahms in this festival. Each of the vocal quartet's members performs in the concert life of the conservatoire and city. Pianists Susanna Kajoyan and Marina Matshina perform solo concert programs in addition to being experienced accompanists.