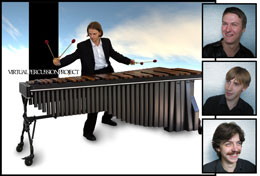 Participants of the ensemble Virtual Percussion Project are students of Saint-Petersburg Conservatoire. The ensemble is unique because the music it performs is written specially
for the percussions.
All of young musicians have some preferences in the percussion world, and
the founder of the ensemble Konstantin Kolesnikov has his own passion ó a mysterious marimba. Thatís why the choice of piece of music for the ensembleís debut is very symbolical: the piece for marimba solo and the percussions.