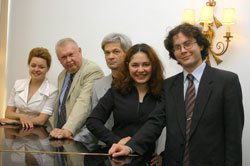 Andrey PENYUGIN
Natalya CHERNOGOR
Reinhart KRAUS
Dinara MURATOVA
Evgeny BRODOTSKY
This ensemble is unusually interesting by virtue of both its instruments and performers. The idea of performing a composition of Alexander Tchaikovsky brought together these varied musicians: student, post-graduate student,
Saint Petersburg Conservatoire Instructor, and Consul General of the Federal Republic of Germany in Saint Petersburg, Mr. Reinhart Kraus.
"Pavane Funebre" was written by A. Tchaikovsky in 1988 at the request of Y. Bashmet. It was premiered in Berlin, with the first performance in Russia held in Saint Petersburg.