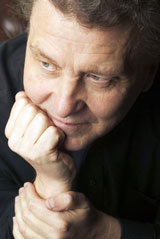 In 1965 Vassily Sinaisky entered the Leningrad Conservatoire where he studied with Prof. Ilya Mussin. He graduated from the Conservatoire in 1970, and finished his postgraduate course in 1972.
V. Sinaisky was Music Director and Principal Conductor of the Moscow Philharmonic from 1991 to 1996. In 2000 Sinaisky was invited to become Music Director and Principal Conductor of the Russian State Orchestra, a position he held until 2002. Principal Guest Conductor of the BBC Philharmonic since 1996, V. Sinaisky is a regular visitor to the Proms summer.
Vassily Sinaisky's international career was launch ed in 1973 when he won the Gold Medal at the Karajan Competition in Berlin.
In 2002 V. Sinaisky stood in at short notice for an indisposed Riccardo Chailly, Conducting the Roy al Concertgebouwe Orchestra at the Proms and the Lucerne Festival. He was immediately re-engaged by the orchestra for the following season. Another recent highlight was his Rosenkavalier with English National Opera in March 2003.
In the next seasons V.Sinaisky will be working with major orchestras worldwide, including the Montreal Symphony, the City of Birmingham Symphony Orchestra, the St. Petersburg Philharmonic, the Czech Philharmonic, the Oslo Philharmonic, and the RSO Berlin.