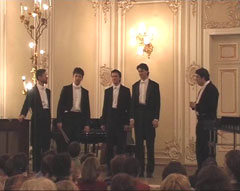 Valery ZNAMENSKY
Alexander MIKHAILOV,
Russian Artist of Merit;
Dmitry KLEMENOK,
All-Russian Competition Prize-winner;
Mikhail LESTOV,
International Competition Prize-winner;
Anton NAZARKO
This ensemble of percussionists was organized in the beginning of 2005 at the Concert Activities Union of Saint Petersburg. The musician's goals for unification were the popularization and illumination of music for percussion instruments, offering systematic help to teachers in music schools and colleges of Russia's North-Western region, and concert performances.
The group's members include artists from the D. D. Shostakovich Philharmonic Orchestra of Saint Petersburg, the M. I. Glinka Academic Cappella, the orchestra "Saint Petersburg Kamerata", and Conservatoire instructors.