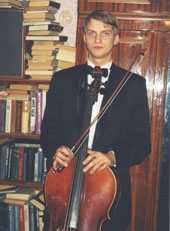 Ivan Korenev was accepted into the Saint Petersburg Conservatoire to study with Professor A. P. Nikitin.
Recognitions include: "Palaces of Saint Petersburg" Scholarship Recipient (2001); Prize-winner at the Kichompre International String Competition (France, 2004); Master Class Participant with M. Rostropovich (Saint Petersburg, 2003), Y. May (Germany, 2004), J.-P. Maintz (Germany, 2005).
Concert locations include cities in Russia, Germany and France.