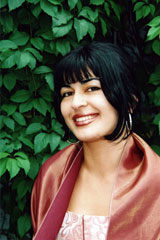 Veronica Joyeva graduated from the Saint Petersburg Conservatoire in the studio of Professor T.D. Novichenko (2005).
She made her debut in 1998 with the North-Ossetian State Philharmonic.
Her opera debut came in 2004 with the part of Mimi in Puccini's La Boheme.
She has toured in China, South Korea, Great Britain and Lithuania. She is a prize-winner of the Maria Callas Grand Prix Competition (Athens, 2005), the M.I. Glinka International Competition (Astrakhan, 2003), and the All-Russian Young Opera Singers Competition (Saint Petersburg, 2003).