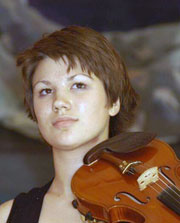 Marianna Shadovyak graduated from the Poznan Talent School in 2004 and subsequently began her first year of studies at the I. Paderewski Music Academy in Poznan, studying with Professors Yadvig Kalishevskaya and Bartosh Bryla.

She is a prize-winner of various competitions: Incentive Award at the Yanina Garshtch All-Poland Violin Competition (Staleva Volya, 1994); I Place in the G.F. Telemann All-Poland Violin Competition (Poznan, 2000); I Place at the Chamber Ensemble Competition (Inowroclaw, 2002); II place at the I All-Poland Competition on Violin Music of Irena Dubinskaya (Lodz, 2003); I Prize at the International Schloss Zell an der Pram Violin Competition (Austria, 2004).

Marianna Shadovyak twice has been scholarship recipient of the Chairman of the Council of Ministers in the Republic of Poland.