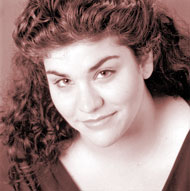 Natalie Conte, soprano, is currently pursuing her Master of Music degree and has recently earned her Bachelor of Music degree at the Peabody Conservatory of Music of Johns Hopkins University. There, she was the recipient of the George Castelle Memorial Award for excellence in performance, and the Azalia H. Thomas award for superior marks in the field of music theory. At Peabody she studies with Phyllis Bryn-Julson and John Shirley-Quirk.

Aside from various recital appearances, Natalie has been involved in the Peabody opera department and has performed the roles of Noèmie in Massenet's Cendrillon, Blonde in Mozart's The Abduction from the Seraglio, the Queen of the Night and the First Lady in the opera outreach program Papageno!, the Shepherdess in Ravel's L'enfant et les Sortillèges, Procris in Céphale et Procris, and has appeared in the chorus of both Candide and Cosí fan tutte.

Besides this, she has an interest in directing, and has successfully directed Mozart's The Impresario. Summer programs that Natalie has attended include the Lake Placid Institute in New York State and the Centro Linguistico Dante Alighieri in Florence, Italy. For the summers of 2004 and 2005, Natalie has been accepted into the well-respected educational program for young singers, Operafestival di Roma.