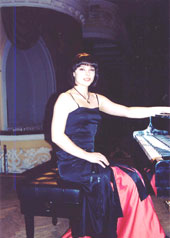 Ekaterina Mechetina graduated from the Moscow Conservatoire in the studio of Profesor S. L. Dorensky.

She is the first to perform many of Rodion Shedrin's compositions. She consistently solos with Vladimir Spivakov and his ensembles: "Russian National Symphony Orchestra, and "Moscow Virtuosi". She toured Taiwan at the invitation of Mstislav Rostropovich, and subsequently completed post-graduate studies in France as a Rostropovich Scholarship Fund recipient.

Ekaterina Mechetina keeps an intensive touring schedule with about 80 concerts each year in Russia, USA, Europe, and Latin America. She collaborates with first-class orchestras, performing on the world's most prestigious concert stages: Schauspielhaus (Berlin), Gaveau (Paris), Concertgebouw (Amsterdam), and Milan Conservatoire Great Hall.