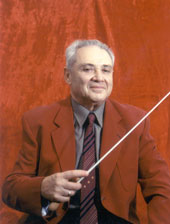 Eduard Gratch (b. 1930) is well known as violinist, violist, conductor and pedagogue. He is a People's Artist of the USSR (1991). He is one of the last students of children's violin pedagogue P. Stolyarsky. He completed undergraduate and post-graduate studies at the Moscow State Conservatoire where he studied with Professors A. I. Yampolsky and D. F. Oystrakh.

Since 1953 Eduard Gratch has been a soloist with the All-Russian Concert Tour Union (since 1965 Mosconcert); and since 1975 a soloist with the Moscow Philharmo nic. He is a laureate of international competitions in Budapest, Paris and Moscow. He was awarded third prize at the M. Long — Z. Tibo International Competition (Paris, 1955).

Eduard Gratch is a professor at the Moscow Conservatoire. His students are prize-winners of various inter national competitions, including the Tchaikovsky Competition (Egor Gretchishni kov, 1995). He is jury member and chair at many international competitions, and holds concerts and master-classes throughout countries such as Germany, France, Slovakia, China, and others.