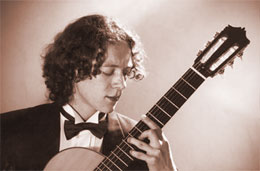 The young russian guitarist Dimitri Illarionov (born 1979) is one of the most brilliant classical guitarists of his generation.

In 1997, he graduated with honors from the Academic Music College at the Moscow Tchaikovsky Conservatoire (Natalia Dmitrieva class) and continu ed his studies at the Gnessin Academy in the class of Alexander Frauchi from where he graduated in 2002 "cum laude" .

Since that year, he has a class of his own at that academy.

Dimitri is the laureate of numerous international competitions, such as "Classical heritage", "Guitar Moscow", "Guitar in Russia", "Alexander Tansman Competition for all instruments", "Gdansk International Competition", "Printemps de la guitare".

In addition to numerous appearances in Russia, he has performed in Ukraine, Belarus, Moldova, Estonia, Poland, France, Spain, Italy, Belgium, Germany, Japan, Canada, Korea and the USA.