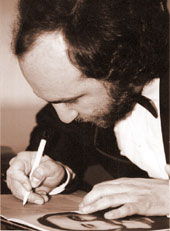 Mikhail Arkadiev's titles are many: pianist, conductor, musicologist, composer, soloist of the Moscow State Philharmonics, member of the International Society for Study of Time (ISST, USA). Honoured Artist of Russia, Doctor of Science (musicology).
Mikhail Arkadiev started his musical training at the age of 13 being completely self-taught. In just 3 years he achieved significant results as a multifaceted musician, pianist and composer. Having had no formal primary music education, he entered the Musical College of the Moscow Conservatoire in 1974. In the same year, he joined the Russian Academy of Music (Gnessin Institute) in Moscow, where he studied piano with Professor A. Aleksandrov, including postgraduate studies. He also studied composition, conducting and music theory.
Currently he is Assistant Professor of piano at the Russian Academy of Music (Gnessin), Moscow.
Since 1990 M. Arkadiev has been collaborating with world-acclaimed baritone Dmitry Hvorostovsky. In 1994 Philips Classics issued the first album of Hvorostovsky and Arkadiev.
Since 1989 M. Arkadiev has been Music Director of (and a constant performer at) the annual chamber music festival «Russische Abende» (The Sylt Isle, Schleswig-Holstein, Germany). In 1995, the world premiere and record ing of Arkadiev`s Mass for Choir and Organ was performed in Lionne, France.
Since 1998 M. Arkadiev has been guest conductor with various opera houses and symphony orchestras: Orquestra Sinfonica Brasileira, Rio de Janeiro; Moscow Philharmonic Orchestra; Tchaikovsky Radio-Symphony; Saratov Philharmonic, etc. He is Chief Conductor and Musical Director of the Volgograd Opera.
Engagements in the near future include concerts in Russia, Germany, Austria and USA.