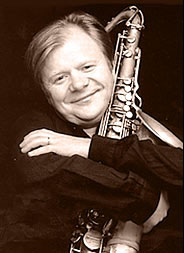 Igor BUTMAN (saxophone)
"Russia's Golden Saxophone" Igor Butman (1961) was born in Leningrad. He studied with G. Goldstein at the M. P. Mussorgsky Musical College.
In September 1987 he entered the Berkeley College of Music where he earned degrees as a concert saxophonist and composer. His composition "French Connection", written during his studies, was included by Grover Washington in his album "Then & Now" with Igor playing in the recording.
Igor Butman collaborates with the giants of world jazz: Joe Lovano, Randy Brecker, Billy Cobham, Dee Bridgewater, Kevin Mahoganny and others. Igor has been a guest performer at the invitation of musicians like Dave Brubeck, Chick Corea, Pat Matheny, Gary Burton, Louis Bellson and Grover Washington.
He has repeatedly performed and recorded albums with violist Yuri Bashmet and his orchestra "Moscow Soloists" in Russia, Italy, and France. At the invitation of Mikhail Kozakov, Igor Butman collaborates with him in "Piece for Voice and Saxophone 'Joseph Brodsky'". He composed the music for the concert "We Play the Strindberg-Blues", in which he participated with his quartet.
Igor Butman has performed in America's most prestigious concert venues: Carnegie Hall, The Lincoln Center, and in the legendary jazz club Bird land. In September 2003 — for the first time in the history of jazz — Igor Butman's Big Band, together with the Lincoln Center Jazz Orchestra and under the direction of Winton Marsalis, opened the new jazz season at the Lincoln Center in New York City. Igor Butman has performed at festivals in Germany, France, Italy, Finland, Bulgaria and Turkey. He has also toured Israel and America.
Igor Butman is Artistic Director of the jazz club Le Club, which the American magazine "Down Beat" included in its list of the World's 100 Best Jazz Clubs.