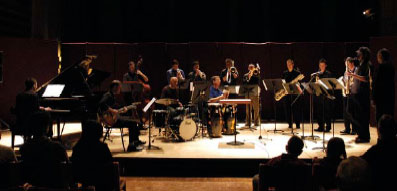 The Guildhall School of Music & Drama first opened its doors on 27 September 1880, housed in a disused warehouse in the City. With 62 part-time students, it was the first municipal music college in Great Britain. The School quickly outgrew its first home, however, and in 1887 it moved to new complex of educational buildings built by the Corporation of London to house it and the City's two public schools.

Initially, all tuition was on a part-time basis, but full-time courses were introduced by public request in 1920. Departments of Speech, Voice and Acting were added and by 1935 the School had added «and Drama» to its title.

The School moved to its present premises in the heart of the City of London's Barbican in 1977 and continues to be owned, funded and administered by the Corporation of London.

In 1993 the Corporation leased a nearby courtyard of buildings that in the 18th century had been the centre of Samuel Whitbread's first brewery, and renovated and converted this to provide the School with its Hall of Residence, Sundial Court. About three minutes' walk from the School, Sundial Court offers self-catering single-room accommodation for 178 students.

The School now has a typical annual roll of some 690 full-time students. About 570 of these are undergraduate and postgraduate music students, while the remaining are studying on the acting and on the stage management and technical theatre courses. In any one year, more than a third of the full-time students can be expected to come from outside the UK and to represent over 40 nationalities.

The School is a member of the Federation of British Conservatoires, of the Conference of Drama Schools and of the European Association of Conservatoires.